BEAT THE PEAK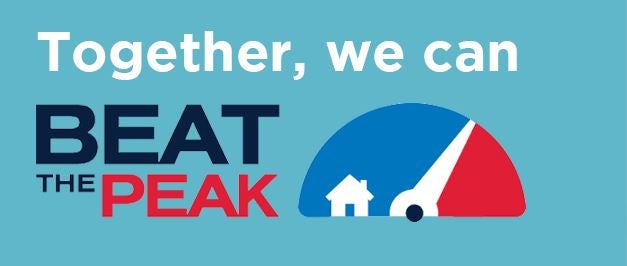 Help US "Beat the Peak"
Tri-County Electric recently started a new Beat the Peak program, a free and voluntary effort to help control energy costs for all cooperative members.
Through Beat the Peak, members of the co-op can sign-up to receive alerts asking them to reduce their energy usage during critical periods when wholesale electricity prices spike. These times, known in the industry as "peak demand," are when requirements for electricity are the highest, such as during some hot summer afternoons or cold winter mornings.
As with most commodities, when the demand for electricity rises, so do the costs.  When the cooperative purchases large amounts of energy during these peak periods over the course of a year, it has a significant impact on the electricity rates the co-op and its member-owners pay.
The idea behind Beat the Peak is to shift energy consumption from times when demand is highest. Potentially, this effort can save the cooperative and its member-owners significant money over time by keeping the wholesale power costs low and stable.
When Tri-County's staff determines that a peak energy-use period is coming, the co-op will issue a Beak the Peak alert to program participants. On the website www.EnergySmartSC.org, members can select to receive the alerts by text message, email or phone call. Tri-County Electric will also alert members on the co-ops Facebook page.
During a Beat the Peak period, which will typically last only a few hours, members will be encouraged to reduce use of power-intensive activities. These are a few of the actions members can take:
Adjust thermostats by 3 degrees – moving higher during summer afternoons and evenings and lower during mornings in the winter.
Delay activities that require hot water, such as washing clothes, taking showers, or washing dishes.
Postpone using heavy appliances, like clothes dryers and ovens.
"The important thing is that we are not asking our member-owners to altogether stop using certain appliances," says Chad Lowder, CEO. "We want to get them to consider shifting their use to different hours of the day to help hold down everyone's costs. If we can work together, it's a win-win for everybody."
Sign up today.  Visit the website www.EnergySmartSC.org where you can select to receive Beat the Peak alerts by text message, email or phone call.
FAQ: BEAT THE PEAK
Beat the Peak is a member notification system that:
Teaches members how electricity use varies during the day and across the seasons of the year
Helps members understand that they can help reduce electricity use at specific times of the day across the whole electric system
Relates individual member choices about electricity use to the broader effort to control costs
Allows members to voluntarily sign up to receive notices of peak demand periods
Sends members notifications (via text, email and/or voice messages) at times when they can help reduce electricity use, that is, when they can beat the peak need for electricity
Your cooperative and its power suppliers continually monitor the demand for energy. Using weather forecasts and historical energy use data, they predict when peak demand for electricity will occur. In advance of that time, participating members can be notified by:
• Email
• Text message
• Voice message
Certain actions can be taken during Beat the Peak notification periods. Those actions could include:
• Adjusting thermostats by 3 degrees
• Turning off lights
• Delaying the use of major appliances such as dishwashers, washing machines and clothes dryers until after the predicted peak demand period has passed
• Postponing hot water use, which will delay the activation of electric water heaters
Higher demand for electricity causes utilities to use more expensive fuels.
Utilities use their most efficient and least costly generators first. Then, as electricity demand increases, utilities turn on generators that are less efficient or that use more expensive fuels. That's why higher electricity use can mean higher costs for your cooperative.
The demand for electricity is greatest between 6 a.m. and 9 a.m. in winter months. In the summer, peak electricity demand occurs between 3 p.m. and 7 p.m.
By joining the Beat the Peak program, members are teaming up with the co-op to save on power costs for everyone. Electricity costs only pennies per kilowatt hour, but the cost during off-peak hours of the day drops to about half that of on-peak costs — a dramatic difference. And, those higher costs must be passed on to members. By lowering total energy use when it is most expensive, the co-op can lower total power costs. Because electric cooperatives are not-for-profit companies, the savings can be passed on to members.
No. The savings come from improvement in the system's peak demand, but those savings are real. Since it costs more to generate electricity during peak-use times of the day, it truly helps when we work together to reduce electricity use on winter mornings and summer afternoon.